Fancy an alternative night out this Friday?
Men's Night – Food, Drink & Talk – Friday 2 Oct 7:30pm
The speaker is Terry Wilcox: Project Director at In2Out based in Leeds sharing his experiences in helping the rehabilitation of young offenders. Food and drink at 7.30pm – talk and reflection a bit later.
Please contact Nigel Priestley if you would like to attend: nigel.priestley@ntlworld.com
Terry says about himself:
"I came from working class beginnings in Bolton. My early business life was in Software – Taking new products to market, opening new markets, building new companies.
I've had a change of identity in the last 5 years – working with young people who've made bad decisions and now have criminal convictions. Check out http://www.in2out.org.uk
I'm helping them to re-adjust and resettle as they rebuild their lives 'on the out' – challenging, often frustrating and, occasionally, immensely rewarding.
I am motivated by personal Christian faith – I've been married (39 years) to Lis, with two grown-up children. I live in Harrogate and keep a dozen sheep.
Hope that's enough!"
Below is an article about a recent visit: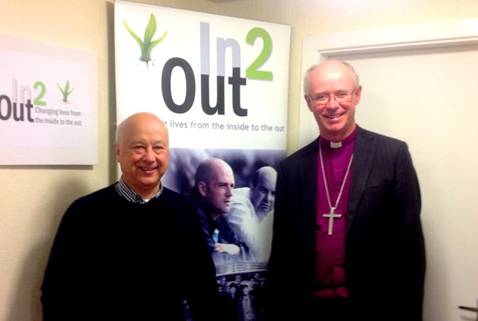 The work of a local prison chaplaincy project helping the rehabilitation for young offenders has been highlighted with a visit to Wetherby Young Offenders Institution and Wetherby prison by the Bishop of Rochester, the bishop for prisons.
The Rt Revd James Langstaff met staff of In2Out, a community chaplaincy initiative based at Wetherby Young Offenders Institute which is supported by the Archbishop of York's Youth Trust.
The Bishop is pictured with Terry Wilcox, the In2Out Project Director
Terry said, "In2Out focuses on young people aged 15 – 21 who have offended and are involved in a Criminal Justice process. They may be completing a custodial sentence in, say, a Young Offender Institution; or perhaps contributing to a community based reparation scheme.
"That means we work in the community, rather than just inside the prison. We help ex-offenders who tell us they want to change their lives and we provide a mentor to work with each young person one to one . We work alongside the young person, faith groups, employers and statutory organisations to ensure the transition to a less chaotic life."