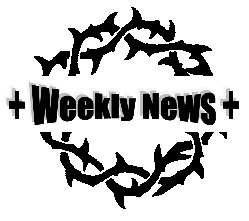 PLEASE PRAY for the children as they have returned to school this week. Pray for their year ahead, for protection, for success, for better understanding and growth, but also for them to have fun and to have the right balance of rest and motivation.
READ THE GOOD NEWS – Mark 7.24-end
Let us trust that Jesus will continue to heal today, as He did so in this passage. Let us pray for those with cancer, physical ailments and other illnesses,
having faith that Jesus can, and will, heal through His Mighty Name.
PRAYER AND WORSHIP IN THE COMING WEEK
Tuesday 11th September
9.30am – Morning Prayer, St Mary's
Wednesday 12th September
9.00am – BCP Holy Communion, St Bartholomew's
10.00am – Meltham Churches Together Prayers for the Community, St Bartholomew's
NEXT SUNDAY 16TH SEPTEMBER
9.30am – Holy Communion, St Bartholomew's
9.30am – Morning Worship / Meditation, St James'
11.15am – Holy Communion, St Mary's
11.15am – Morning Worship, Christ Church
Other dates for your diary – September
Tuesday 11th
7.30pm – Growth & Development Meeting, St James'
Wednesday 12th
7.30pm – PCC Meeting, St James'
Friday 14th
9.00am-3.00pm Operation Christmas Child working group, St James'
10.00am-12.00pm Community Card Group, St James'
10.30am-12.00pm Coffee and Chat, St Bartholomew's
Saturday 15th
3.00pm – Baptism Party, St James'
IMPORTANT INFORMATION:
Rev'd John Dracup's contact details:
Phone: 07983 937132
Email: revjohndracup@gmail.com
Parish Office:
Phone: 07933 596734
Email: parishofchristtheking@gmail.com
Please send all weekly news entries to Amelia at parishofchristtheking@gmail.com