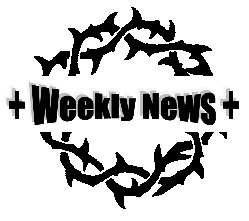 PLEASE PRAY for those around you, for the known and unknown in our community. For those in need and for those who may look like everything is okay on the surface, but behind the scenes may need help. Ask God for wisdom and insight to be able to support each other, practically and prayerfully.
READ THE GOOD NEWS – Mark 9. 38 – end
Let us not take for the granted the power and authority that is in the name of Jesus Christ. That through Him the impossible can be made possible.
PRAYER AND WORSHIP IN THE COMING WEEK
Tuesday 2nd October
9.30am – Morning Prayer, St Mary's
Wednesday 3rd October
9.00am – BCP Holy Communion, St Bartholomew's
10.00am – Meltham Churches Together Prayers for the Community, St Bartholomew's
NEXT SUNDAY 7th October
9.30am – Harvest & Holy Communion at St Bartholomew's, Meltham
9.30am – Harvest at St James, Meltham Mills
11.15am – Harvest at St Mary's, Wilshaw
11.15am – Harvest & Holy Communion at Christ Church, Helme
Other dates for your diary – October
Wednesday 3rd
7.30pm – Church Growth & Development Meeting, St James'
Friday 5th
7.00pm – Harvest Home Supper & Auction, St James'
Saturday 6th
7.30pm – 14th Annual "Last Night of the Proms" with Meltham & Meltham Mills Band. Guest Soprano Charlotte Potter. Tickets available from the Flower Box, Café 33 or pay at the door – £8.00 each
Saturday 20th – HELP WANTED:
10.00am – 12.30pm – Autumn Garden Party clear up, St James' Church
Jobs required: Path de mossing, leaf clearing and general autumn tidy up. Please bring your own tools. Thank you in advance to anyone who can make it – the more the merrier! (Weather permitting)
Please send all weekly news entries to Amelia at parishofchristtheking@gmail.com