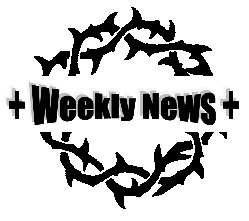 PLEASE PRAY for our churches, for churches around the nation and all over the world. For churches to be filled, not just with His people, but with His Holy Spirit.
READ THE GOOD NEWS – Mark 10.46-end
Bartimaeus, even though disadvantaged and discouraged by others, was determined not to let Jesus pass by without meeting Him, and as a result received his sight. We too have the privilege to meet with Jesus, personally and collectively, and be in His presence. Don't let the opportunity pass you by.
PRAYER AND WORSHIP IN THE COMING WEEK
Tuesday 30th October
9.30am – Morning Prayer, St Mary's
Wednesday 31st October
9.00am – BCP Holy Communion, St Bartholomew's
10.00am – Meltham Churches Together Prayers for the Community, St Bartholomew's
NEXT SUNDAY 4th NOVEMBER
St Bartholomew's, 9.30am – Holy Communion
St James', 9.30am – Holy Communion
St Mary's, 11.15am – Holy Communion
Christ Church, 11.15am – Holy Communion
OTHER DATES FOR YOUR DIARY
Tuesday 30th October
St Bartholomew's Women's Fellowship – starts at 2.00pm (not 7.30pm)
Thursday 1st November
'Democracies don't go to war'. The 13th Annual Huddersfield Quaker Peace Lecture. Molly Scott Cato MEP, Green Party speaker on Brexit and Finance – 7.30pm at
Huddersfield Quaker Meeting House, Church Street HD1 4TR
Saturday 3rd November
John Thornton will be giving a recital at St Bartholomew's Church in celebration of his 50 years as an organist. Please come along to show your appreciation – 11.00am
Please send all weekly news entries to Amelia at parishofchristtheking@gmail.com