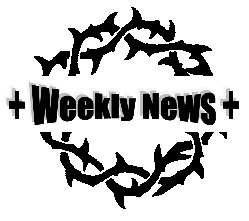 PLEASE PRAY for health among us. At this time of year when so many illnesses are passing around, pray for protection and quick healing.
READ THE GOOD NEWS – John 11.32-44
Let us never underestimate the power of Jesus' name. Believing that through Him, all things are possible. 'Then Jesus said, "Did I not tell you that if you believe, you will see the glory of God?"
PRAYER AND WORSHIP IN THE COMING WEEK
Monday 5th November
9.30am – Morning Prayer, Christ Church
Tuesday 6th November
9.30am – Morning Prayer, St Mary's
Wednesday 7th November
9.00am – BCP Holy Communion, St Bartholomew's
10.00am – Meltham Churches Together Prayers for the Community, St Bartholomew's
NEXT SUNDAY 11th NOVEMBER
St Bartholomew's – Remembrance Sunday Service, 10.30am.
St Mary's – Remembrance Sunday Service, 2pm
OTHER DATES FOR YOUR DIARY
Wednesday 7th November
Church Growth & Development Meeting at St James Church, 7.30pm
St Bartholomew's DDC Meeting, 7.30pm
Monday 12th November
Meltham Mustard Seed Curry Evening at The Pink Elephant, 7pm
Monday 12th November – 7th December
Operation Christmas Child Events:
(Friday's at St James Church have now finished.)
OCC Processing Centre opens Monday – Friday, 9.00am – 5.00pm daily. Late night on Wednesday 21st November, till 8.00pm.
Donated OCC shoeboxes can be dropped off at The Crossroads Shop between 1st and 18th November.
Please send all weekly news entries to Amelia at parishofchristtheking@gmail.com