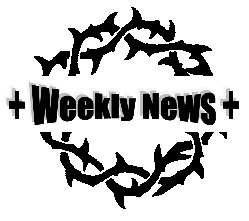 PLEASE PRAY for our Prime Minister, for our Government and for our Nation. As Theresa May leads us, facing such opposition and battle, pray that she, and all involved, would seek God and His strength, wisdom and authority to do what is best for our Nation at such a difficult and challenging time.
READ THE GOOD NEWS – Luke 3.1-6
Let us not forget or take advantage of God's goodness toward us and how important it is for us to repent, as John the Baptist preached, and be forgiven, as we come before Him.
PRAYER AND WORSHIP IN THE COMING WEEK
Monday 10th December
9.30am – Morning Prayer, Christ Church
Tuesday 11th December
9.30am – Morning Prayer, St Mary's
Wednesday 12th December
10.00am – Meltham Churches Together Prayers for the Community, St Bartholomew's
(Please not that there is no 9.00am service this Wednesday as it is being replaced by the Seasonal Service & Lunch, details below)
NEXT SUNDAY 16th DECEMBER
St Bartholomew's, 9.30am – Holy Communion
St James' 9.30am – Service of the Word / Meditation
St Mary's, 11.15am – Service of the Word
                   6.00pm – Carol Service
Christ Church, 11.15am – Holy Communion
OTHER INSERTS FOR YOUR DIARY:
Wednesday 12th December
Advent Parish Communion with Seasonal lunch served afterwards, including mince pies, sherry and many more treats – at St Bartholomew's Church, 11.00am
Friday 14th December
Meltham & Meltham Mills Band Christmas Concert – 7.00pm at St Bartholomew's Church. Tickets £8.00 available from The Flower Box / entry on the door
Saturday 15th December
Carols in the Pub – 8pm onwards at the Waggon & Horses. Come, rejoice and be merry!
PLEASE REMEMBER: The deadline for the January magazine has been brought forward, due to the Christmas holidays. The last date to submit items is Monday 10th December.
Please send all weekly news entries to Amelia at parishofchristtheking@gmail.com