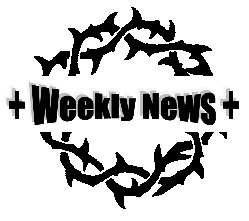 PLEASE PRAY for 2019. For a blessed year for many, for our churches, families, communities and many more. That this year we would see growth,
not just numerically but in our relationships with Jesus.
READ THE GOOD NEWS – Luke 2:41-52 As Jesus was found in His Father's house, let us be found in our Father's house also. Coming to Him to repent, to have forgiveness, to receive joy and peace.
SUNDAY 30TH DECEMBER – JOINT PARISH COMMUNION – St Bartholomew's, 9.30am – ALL WELCOME – NOTE! – no services in the other churches.
31st December – New Years Eve Party – for all the family!
Meltham Parish Church Hall, 7.30pm till after midnight. Bring your own drinks and nibbles. There will be music, fun & games for all ages.
Tickets available from the Flower Box or call Pam (01484 349857 / 07761 393502). Tickets £3 each or £10 for a family of four.
PRAYER AND WORSHIP IN THE COMING WEEK
Wednesday 2nd January
9.00am – BCP Holy Communion, St Bartholomew's
10.00am – Meltham Churches Together Prayers for the Community, St Bartholomew's
Please Note Morning Prayer in the Parish will resume next week as usual, including:
Christ Church – 7th January & St Mary's 8th January.
NEXT SUNDAY 6TH JANUARY
St Bartholomew's, 9.30am – Holy Communion
St James', 9.30am – Service of the Word
Christ Church, 11.15am – Service of the Word
St Mary's, 11.15am – Holy Communion
OTHER INSERTS FOR YOUR DIARY:
Wednesday 2nd January – Growth & Development Meeting at The Vicarage, 7.30pm
Saturday 5th January – White Elephant Sale Coffee Morning at Meltham Parish Church Hall, 9.30am. Bring along all your unwanted gifts to help raise funds for new windows in the Church Hall.
Saturday 12th January – Winter Warmer – Come and join us for Pies, Peas & Pudding followed by Tea & Coffee at Christ Church, Helme, 12.00 – 2.00pm. Tickets £8 per person, are available from Janet – 01484 851424 or Irene – 01484 664163
Please send all weekly news entries to Amelia at parishofchristtheking@gmail.com