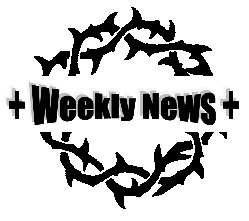 PLEASE PRAY for the Week of prayer for Christian Unity. As Christian's all around the world come together and join in prayer, let us not
underestimate the power of prayers lifted up in Jesus' name. This year's focus for the Week of Prayer for Christian Unity is 'Only Justice'. For more information and resources please visit www.ctbi.org.uk
READ THE GOOD NEWS – Luke 3:15-17, 21-22 'And a voice came from heaven: "You are my Son, whom I love; with you I am well pleased.". Let us endeavour to serve and live the lives that God has called us to, with righteousness, passion and commitment, glorifying Him and what He has saved us from. That we too may receive the words 'with you I am well pleased.'
PRAYER AND WORSHIP IN THE COMING WEEK
Monday 14th January
9.30am – Morning Prayer, Christ Church
Tuesday 15th January
9.30am – Morning Prayer, St Mary's
Wednesday 16th January
9.00am – BCP Holy Communion, St Bartholomew's
10.00am – Meltham Churches Together Prayers for the Community, St Bartholomew's
NEXT SUNDAY 20TH JANUARY
St Bartholomew's, 9.30am – Holy Communion
St James', 9.30am – Service of the Word / Meditation
Christ Church, 11.15am – Holy Communion
St Mary's, 11.15am – Service of the Word
OTHER INSERTS FOR YOUR DIARY:
Monday 21st January – Meltham Churches Together Meeting – 7.30pm at Meltham Methodist Church
Monday 28th January – "Journeys" A five week course which helps us to find out more about Jesus, to explore and deepen our own personal faith and learn how to put that faith it into words. 7.00 – 8.30pm each Monday, at St James' Church, Meltham Mills.
For more information please speak to Rev John Dracup.
Please send all weekly news entries to Amelia at parishofchristtheking@gmail.com