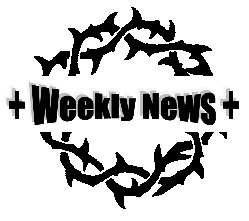 PLEASE PRAY for conviction. In a world that is changing so quickly around us, pray that we as Christian's would have a high conviction against what is not of God. And that He would help us and strengthen us not to conform, but to be transformed by His Holy Spirit.
READ THE GOOD NEWS – Luke 4:14-21 Let us be so familiar with His word, reading and feeding from it daily, that like in this passage when scripture is fulfilled, we would not miss it, but have our eyes set firmly on Jesus.
PRAYER AND WORSHIP IN THE COMING WEEK
Monday 28th January
9.30am – Morning Prayer, Christ Church
Tuesday 29th January
9.30am – Morning Prayer, St Mary's
Wednesday 30th January
9.00am – BCP Holy Communion, St Bartholomew's
10.00am – Meltham Churches Together Prayers for the Community, St Bartholomew's
NEXT SUNDAY 3RD FEBRUARY
St Bartholomew's, 9.30am – Holy Communion
St James', 9.30am – Service of the Word
Christ Church, 11.15am – Service of the Word
St Mary's, 11.15am – Holy Communion
OTHER INSERTS FOR YOUR DIARY:
Monday 28th January – "Journeys" – A five week course which helps us to find out more about Jesus, to explore and deepen our own personal faith and learn how to put that faith it into words. 7.00 – 8.30pm each Monday, at St James' Church, Meltham Mills.
For more information please speak to Rev John Dracup.
Tuesday 29th January – St Bartholomew's Women's Fellowship AGM in St Bartholomew's Church, 2.00pm
Wednesday 6th – Saturday 9th February – Robin Hood – The Pantomime – Presented by The Stage Company at Meltham Church Hall, 7.15pm (1.15pm & 6.30pm Saturday only). Tickets available from The Flower Box or Tel: 684998
Adults – £7 / Concessions – £5
Please send all weekly news entries to Amelia at parishofchristtheking@gmail.com