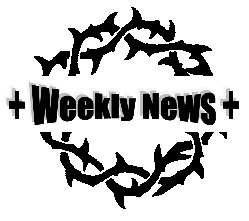 PLEASE PRAY for our retired Clergy and their families. Serving so faithfully and fervently, pray for their health and protection, for them and their family members. Be thankful for all they have done and continue to do for our Parish and community.
READ THE GOOD NEWS – Luke 2.22-40 – As Simeon was promised that he would see the Lord's Messiah during his life. Let us be inspired by him to pray that we would see revival among our nation, through Jesus Christ, during our lifetime too. "Sovereign Lord, as you have promised, you may
now dismiss your servant in peace. For my eyes have seen your salvation, which you have prepared in the sight of all nations; A light for revelation to the Gentiles, and the glory of your people Israel."
PRAYER AND WORSHIP IN THE COMING WEEK
Monday 4th February
9.30am – Morning Prayer, Christ Church
Tuesday 5th February
9.30am – Morning Prayer, St Mary's
Wednesday 6th February
9.00am – BCP Holy Communion, St Bartholomew's
10.00am – Meltham Churches Together Prayers for the Community, St Bartholomew's
NEXT SUNDAY 10TH FEBRUARY
St Bartholomew's, 9.30am – Holy Communion
St James', 9.30am – Holy Communion
5.00pm – 5 Alive
Christ Church, 11.15am – Service of the Word
St Mary's, 11.15am – Holy Communion
OTHER INSERTS FOR YOUR DIARY:
Monday 4th February – "Journeys"
Our weekly course continues which helps us to find out more about Jesus, to explore and deepen our own personal faith and learn how to put that faith it into words. 7.00 – 8.30pm each Monday, at St James' Church, Meltham Mills. For more information please speak to Rev John Dracup.
Wednesday 6th February – Growth & Development Meeting
7.30 – 9.00pm at The Vicarage
Please send all weekly news entries to Amelia at
parishofchristtheking@gmail.com