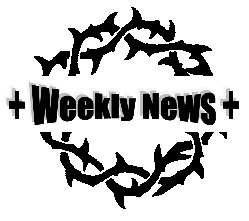 PLEASE PRAY for yourselves. Sometimes we focus so much on what is going on around us and for others who we care about that we neglect to pray for our own health – physical and spiritual. Pray for a renewing of strength, passion and closeness to God. Ask Him to identify our weaknesses and how we can better ourselves as we serve Him.
READ THE GOOD NEWS – Genesis 2:4-9 – As Spring approaches, let us be reminded of and thankful to God for His creation. As the colours from the daffodils, trees and sky start to shine a little brighter, let us seek to see God in all things, especially in the beauty of His creation.
PRAYER AND WORSHIP IN THE COMING WEEK
Monday 25th February
9.30am – Morning Prayer, Christ Church
Tuesday 26th February
9.30am – Morning Prayer, St Mary's
Wednesday 27th February
9.00am – BCP Holy Communion, St Bartholomew's
10.00am – Meltham Churches Together Prayers for the Community, St Bartholomew's
NEXT SUNDAY 3RD MARCH
St Bartholomew's, 9.30am – Holy Communion
St James', 9.30am – Service of the Word
Christ Church, 11.15am – Holy Communion
St Mary's, 11.15am – Service of the Word
OTHER INSERTS FOR YOUR DIARY:
Monday 25th February – "Journeys" – 7.00pm at St James Church, Meltham Mills. For more information please speak to Rev John Dracup.
Tuesday 26th February – St Bartholomew's Women's Fellowship – Sandie Nicholson will be showing slides of local scenes. 2.00pm in church.
Friday 1st March – World Day of Prayer Service at St Bartholomew's Church, 2.00pm. Followed by refreshments to help raise donations for the Hospice Support Group
Lent 2019 – from Monday 11th March – Meltham Churches Together will be running ecumenical home study groups on 4 different days each week, for 5 weeks in Lent. We will be following the New York Course 'Daring to see God now'. If you would like to join a group, please sign the green 'sign up' sheets in each church, the Crossroads Shop or Crossroads Centre. All are welcome. For more information, please speak to Jean Burhouse.
Please send all weekly news entries to Amelia at parishofchristtheking@gmail.com