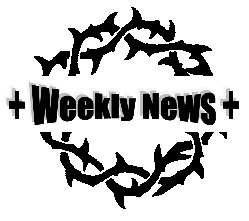 PLEASE PRAY for our young people, pray protection over them, pray for them to make wise choices, not succumbing to ways of the world but standing firm in God's love and plan for their lives.
READ THE GOOD NEWS – Luke 9:28-36 – Let us seek God so intentionally and fervently during our quiet times with Him, that our faces and appearance change too. Not necessarily physically, but spiritually glowing as we encounter Him and His Spirit.
PRAYER AND WORSHIP IN THE COMING WEEK
Monday 4th March
9.30am – Morning Prayer, Christ Church
Tuesday 5th March
9.30am – Morning Prayer, St Mary's
Wednesday 6th March
9.00am – Ash Wednesday Holy Communion, St Bartholomew's
10.00am – Meltham Churches Together Prayers for the Community, St Bartholomew's
7.00pm – Ash Wednesday Parish Holy Communion, St Bartholomew's
NEXT SUNDAY 10th MARCH
St Bartholomew's, 9.30am – Holy Communion
St James', 9.30am – Holy Communion
Christ Church, 11.15am – Service of the Word
St Mary's, 11.15am – Holy Communion
OTHER INSERTS FOR YOUR DIARY:
Lent 2019 – from Monday 11th March Meltham Churches Together will be running ecumenical home study groups on 4 different days each week, for 5 weeks in Lent.
We will be following the New York Course 'Daring to see God now'. If you would like to join a group, please sign the green 'sign up' sheets in each church, the Crossroads Shop or Crossroads Centre. All are welcome. For more information, please speak to Jean Burhouse.
Meltham Mustard Seed AGM – Wednesday 13th March – Come and hear a first hand report from Kyema, Uganda, by Jane Collins. 7.30pm at Meltham Methodist Church
Please note – The Church Growth & Development Meeting has now moved the 4th Wednesday of each month, rather than the 1st. It will meet 27th March, 7.30pm at The Vicarage.
Please send all weekly news entries to Amelia at parishofchristtheking@gmail.com