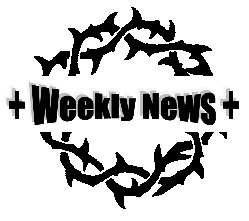 PLEASE PRAY for baby Jack (Dracup). Jack was rushed to hospital this last week after suffering a seizure. Please pray that he would make a full recovery and heal through God's Holy Spirit, being able to settle back at home. Pray for John and Fiona as they care for him, and Isaac and Rebekah to feel love and supported.
READ THE GOOD NEWS – Luke 4:1-13 – As Satan tempted Jesus in the wilderness, we too experience this at one time or another. Prolonged times of feeling abandoned, more things seem to be going wrong rather than right, challenging times. It is during these 'wilderness' periods that we need to rely on God's word, rebuking Satan with scripture, don't lose hope, continue to trust in Him and His plans for your life.
PRAYER AND WORSHIP IN THE COMING WEEK
Monday 11th March
9.30am – Morning Prayer, Christ Church
Tuesday 12th March
9.30am – Morning Prayer, St Mary's
Wednesday 13th March
9.00am – BCP Holy Communion, St Bartholomew's
10.00am – Meltham Churches Together Prayers for the Community, St Bartholomew's
NEXT SUNDAY 17th MARCH
St Bartholomew's, 9.30am – Holy Communion
St James', 9.30am – Service of the Word / Reflection
Christ Church, 11.15am – Holy Communion
St Mary's, 11.15am – Service of the Word
OTHER EVENTS FOR YOUR DIARY:
Monday 11th March – MCT Lent Home Groups
Tuesday 12th – Meet the Vicar @ The Waggon and Horses – 8pm
Wednesday 13th – Mustard Seed AGM – 7:30pm @ The Methodist Church
Saturday 16th – Women's Fellowship Coffee Morning – Cakes and Tombola items required. Also volunteers to help out!
Please refer to the Parish Magazine for all event details
IMPORTANT NOTICE:
PREPARATION OF NEW ELECTORAL ROLL
Notice is hereby given that under the Church Representation Rules a new Church Electoral Roll is being prepared. All persons who wish to have their names entered on the new Roll, whether their names are entered on the present Roll or not, are requested to apply for enrolment not later Sunday 7th April 2019. The new Roll will come into operation on 14.04.19.
Forms of application for enrolment will be available to collect in Churches on Sunday 24th March. If you have any queries, please contact the
Church Electoral Roll Officer – Amelia Knowles