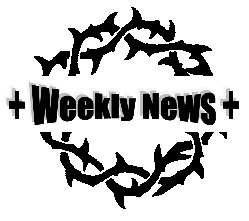 PLEASE PRAY for our Nation to turn back to God. During such an uncertain time, pray that we would not try to succeed of our own accord, but recognise that it is through God's strength and wisdom that the outcome is determined. As our Good News reading says this week, He longs to gather His children, like a hen gathers her chicks under her wing. Pray that our Government would recognise that, and come to Him in prayer.
READ THE GOOD NEWS – Luke 13:31-end 'Blessed is He who comes in the name of the Lord'.
PRAYER AND WORSHIP IN THE COMING WEEK
Monday 18th March
9.30am – Morning Prayer, Christ Church
Tuesday 19th March
9.30am – Morning Prayer, St Mary's
Wednesday 20th March
9.00am – BCP Holy Communion, St Bartholomew's
10.00am – Meltham Churches Together Prayers for the Community, St Bartholomew's
NEXT SUNDAY 24th MARCH
St Bartholomew's, 9.30am – Holy Communion
St James', 9.30am – Holy Communion
Christ Church, 11.15am – Service of the Word
St Mary's, 11.15am – Holy Communion
OTHER EVENTS FOR YOUR DIARY:
Monday, Tuesday, Wednesday this week –
Lent Groups continue. Please speak to Jean Burhouse for more details
Wednesday 20th March – Seasonal Holy Communion Service followed by lunch. 11.00am at St Bartholomew's Church. Please speak to Val White for more information or if you need a lift – 01484 850496
Wednesday 27th March – OASIS Quiet Day – 10.00am – 2.30pm at St James' Church.
OLIVET TO CALVARY – PALM SUNDAY
The choir at St Bartholomew's will be performing Olivet to Calvary on Palm Sunday at 4pm and would be delighted to welcome singers from across the Parish and further afield – whether you are experienced or not.  If you are interested, please speak to a member of the choir or just come along to the rehearsals which will commence on Thursday 28th March @ 8pm.
IMPORTANT NOTICE:
PREPARATION OF NEW ELECTORAL ROLL
Notice is hereby given that under the Church Representation Rules a new Church Electoral Roll is being prepared. All persons who wish to
have their names entered on the new Roll, whether their names are entered on the present Roll or not, are requested to apply for enrolment
not later Sunday 7th April 2019. The new Roll will come into operation on 14.04.19. Forms of application for enrolment will be available to collect in Churches on Sunday 24th March. If you have any queries, please contact the Church Electoral Roll Officer – Amelia Knowles
parishofchristtheking@gmail.com / 07933 596734