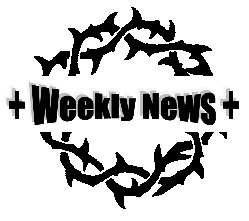 PLEASE PRAY for opportunities to show kindness and gentleness. Bless someone, without expecting something in return. Show God's love through your acts of faithfulness to Him.
READ THE GOOD NEWS – Colossians 3:12-17 – Such a powerful, uplifting, humbling verse. Let us all strive to live this out everyday, taking pride in the compassion and love we can show to others, as Christ has shown us.
PRAYER AND WORSHIP IN THE COMING WEEK
Monday 25th March
9.30am – Morning Prayer, Christ Church
Tuesday 26th March
9.30am – Morning Prayer, St Mary's
Wednesday 27th March
9.00am – BCP Holy Communion, St Bartholomew's
10.00am – Meltham Churches Together Prayers for the Community, St Bartholomew's
NEXT SUNDAY 31st MARCH – JOIN US FOR MOTHER'S DAY SERVICES ACROSS THE PARISH
St Bartholomew's, 9.30am
St James', 9.30am
Christ Church, 11.15am
St Mary's, 11.15am
OTHER EVENTS FOR YOUR DIARY:
St Bartholomew's Women Fellowship – Tuesday 26th, 2.00pm
Growth & Development Meeting – Wednesday 27th, 7.30pm at The Vicarage
Ladies Supper Evening – Friday 5th April, 7.00pm at St James' Church
Olivet to Calvary – Palm Sunday, 14th April, 4.00pm at St Bartholomew's Church.
The Choir will be performing and would be delighted to welcome singers from across the Parish and further afield – whether you're experienced or
not. If you are interested please speak to a member of the choir or come along to rehearsals, which commence Thursday 28th March, 8.00pm.
Please send all weekly news entries to Amelia at parishofchristtheking@gmail.com
IMPORTANT NOTICE:
PREPARATION OF NEW ELECTORAL ROLL
Forms are now available in each church for application of the new Electoral Roll. All persons who wish to have their names entered on the new Roll, whether their names are entered on the present Roll or not, are requested to apply for enrollment not later Sunday 7th April 2019. The new Roll will come into operation on 14.04.19 Please return all filled in forms in the allotted boxes placed in each church.