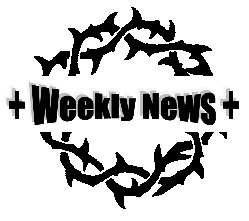 PLEASE PRAY for your Mother's, Father's, parents who may not be biologically related to us but care for us as though they were, for all family members. Show them all the love and appreciation you have for them.
READ THE GOOD NEWS – John 12:1-8 – As Mary so willingly sacrificed something of such value, would you be willing to sacrifice something of value to you, to honour and bring you closer to Jesus?
PRAYER AND WORSHIP IN THE COMING WEEK:
Monday 1st April
9.30am – Morning Prayer, Christ Church
Tuesday 2nd April
9.30am – Morning Prayer, St Mary's
Wednesday 3rd April
9.00am – BCP Holy Communion, St Bartholomew's
10.00am – Meltham Churches Together Prayers for the Community, St Bartholomew's
NEXT SUNDAY 7TH APRIL:
St Bartholomew's, 9.30am – Holy Communion
St James', 9.30am – Service of the Word
Christ Church, 11.15am – Holy Communion
St Mary's, 11.15am – Service of the Word
OTHER EVENTS FOR YOUR DIARY:
St James' AGM – Monday 1st April at 7.30pm.
Ladies Supper Evening – Friday 5th April, 7.00pm at St James' Church
Gilbert & Sullivan 'Come & Hear the People Sing' – Friday 12th & Saturday 13th April 7.30pm in the Church Hall. Tickets are £10.00, available from the Flower Box and include a Pie & Peas Supper.
Olivet to Calvary – Palm Sunday, 14th April, 4.00pm at St Bartholomew's Church. The Choir will be performing and would be delighted to welcome singers from across the Parish and further afield – whether you're experienced or not. If you are interested please speak to a member of the choir or come along to rehearsals, which commence Thursday 28th March, 8.00pm.
IMPORTANT NOTICE:
PREPARATION OF NEW ELECTORAL ROLL
Forms are now available in each church for application of the new Electoral Roll. All persons who wish to have their names entered on the new Roll, whether their names are entered on the present Roll or not, are requested to apply for enrolment not later Sunday 7th April 2019. The new Roll will come into operation on 14.04.19. Please return all filled in forms in the allotted boxes placed in each church.
Please send all weekly news entries to Amelia at parishofchristtheking@gmail.com