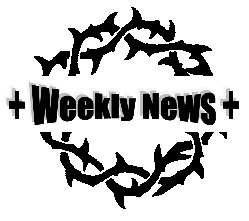 PLEASE PRAY for our country as we vote for Members of the European Parliament -­ that we will elect representatives who will show your qualities
of creativity, tolerance, respect, patience, perseverance and justice that you revealed to us in Jesus. Help us to know your will for our democracy here in the UK and our place in the wider world. Thy Will be Done, Lord.
READ THE GOOD NEWS – John 13: 31-­35
Love one another as I have loved you. By this shall all people know that you are my disciples, by having and showing love -­ one for another.
PRAYER AND WORSHIP IN THE COMING WEEK
Monday 20th May
9.30am Morning Prayer, Christ Church
Tuesday 21st May
9.30am Morning Prayer, St Mary's
Wednesday 22nd May
09.00am BCP Holy Communion, St Bart's
10.00am Meltham Churches Together Prayers for the Community, St Bart's
Thursday 23rd May
1.30pm Holy Communion at Greenacres
NEXT SUNDAY 26th May
09.30am St Bart's, Holy Communion
09.30am St James', Holy Communion
11.15am Christ Church, Service of the Word
11.15am St Mary's, Holy Communion
OTHER DATES FOR YOUR DIARY
Friday 24th May
09.00am–3.00pm St James' Operation Christmas Child working group
10.00am-­12 noon St James', Community Card Group
10.30am-­12 noon St Bart's, Coffee and Chat
Saturday 25th May
2.00pm-­4.00pm Christ Church, Helme Fashion Show. £5 admission includes usual excellent Helme cake and coffee/tea. Can pay by cash, card
or cheque for items on the day.
Please send items for the weekly news to Ruth on 07974 943443 or ruthmurraywebster@gmail.com