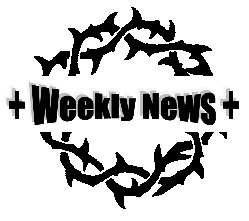 PLEASE PRAY for people around the world who are frightened, angry or lonely. Pray that they will find a place of safety, acceptance and friendship in the knowledge that they are loved unconditionally.
READ THE GOOD NEWS – John 14: 23-­29
Those who come to the Lord with openness and repentence can be assured of God's grace through the Holy Spirit.
PRAYER AND WORSHIP IN THE COMING WEEK
Monday 27th May
No Morning Prayer at Christ Church – Bank Holiday
Tuesday 28th May
9.30am Morning Prayer, St Mary's
Wednesday 29th May
09.00am BCP Holy Communion, St Bart's
10.00am Meltham Churches Together Prayers for the Community, St Bart's
Thursday 30th May
2pm Holy Communion, Helme Hall
NEXT SUNDAY 2nd June
09.30am St Bart's, Holy Communion
09.30am St James', Service of the Word
11.15am Christ Church, Holy Communion
11.15am St Mary's, Service of the Word
OTHER DATES FOR YOUR DIARY
Tuesday 28th May
2.00pm St Bartholomew's Women's Fellowship. Helen Brockley will talk about Faith.
Wednesday 29th May
7.30-­9pm The Vicarage Growth & Development Meeting
All welcome for prayer and planning for our growth in numbers and spiritual commitment
Friday 31st May
09.00am–3.00pm St James' Operation Christmas Child working group
10.00am-­12 noon St James', Community Card Group
10.30am-­12 noon St Bart's, Coffee and Chat.
Saturday 1st June
MUSTARD SEED COFFEE MORNING THEN SPONSORED WALK DEPARTING AT 1PM
Please sponsor one of the walkers from your church.
Please send items for the weekly news to Ruth on
07974 943443 or ruthmurraywebster@gmail.com