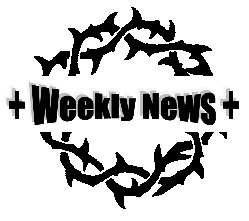 PLEASE PRAY in this period between Ascension and Pentecost that God's Kingdom Comes and that the justice and peace that we have the opportunity to enjoy is felt by all people.
READ THE GOOD NEWS – John 17: 20-end
Jesus prays that we will know God and that we will know that the love that God has for each one of us is real and for every moment of every day.
PRAYER AND WORSHIP IN THE COMING WEEK
Monday 3rd June
9.30am Morning Prayer, Christ Church
Tuesday 4th June
9.30am Morning Prayer, St Mary's
Wednesday 5th June
09.00am BCP Holy Communion, St Bart's
10.00am Meltham Churches Together Prayers for the Community, St Bart's
10.30am Bell House, Wilshaw, Holy Communion
NEXT SUNDAY 9th June – Pentecost
09.30am St Bart's, Holy Communion
09.30am St James', Holy Communion
11.15am Christ Church, Holy Communion
11.15am St Mary's, Holy Communion
4.30pm St James' FIVE ALIVE PENTECOST CELEBRATION shared with Meltham Churches Together.
OTHER DATES FOR YOUR DIARY
Friday 7th June
09.00am–3.00pm St James' Operation Christmas Child working group (with soup lunch)
10.00am-12 noon St James', Community Card Group
10.30am-12 noon St Bart's, Coffee and Chat.
Saturday 8th June
10am – 3pm PCC Away Day at Ridley & Hall, Market Street, Huddersfield. See you there or be in St James' car park at 9.30am for a lift.
10am – 4pm The Big Knit at Kirkwood Hospice. A giant 'knit and natter' to which all are welcome.
Please send items for the weekly news to Ruth on 07974 943443 or ruthmurraywebster@gmail.com