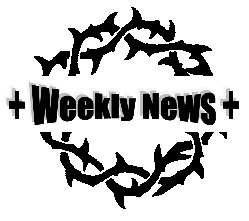 PLEASE PRAY for families – that they will find a way a way to show love every day. Love that is patient, kind, that isn't proud, doesn't brag or dishonour people or look out for its own interests or succumb to anger and keep track of people's wrongs. Pray that love always trusts, protects, hopes and never gives up.
READ THE GOOD NEWS – Luke 10, 1-11
Jesus said, "The harvest is plentiful, but the workers are few. Ask the Lord of the harvest, therefore, to send out workers into his harvest field".
PRAYER AND WORSHIP IN THE COMING WEEK
Monday 8th July
9.30am Morning Prayer, Christ Church
Tuesday 9th July
9.30am Morning Prayer, St Mary's
1.30pm Greenacres Songs of Praise
Wednesday 10th July
9.30am Holy Communion BCP, St Bart's
10.00am Meltham Churches Together Prayers for the Community, St Bart's
10.30am Bell House, Wilshaw Holy Communion
NEXT SUNDAY 14th July
09.30am St Bart's, Holy Communion
09.30am St James', Holy Communion
11.15am Christ Church, Service of the Word
11.15am St Mary's, Holy Communion
4.30pm St James', 5 ALIVE
OTHER DATES FOR YOUR DIARY
Friday 12th July
09.00am–3.00pm St James' Operation Christmas Child working group (with soup lunch)
10.30am-12 noon St Bart's, Coffee and Chat.
No Community Card Group this week
Saturday 13th July
12-2pm – Helme – Summer Lunch
Tickets required – £10 from Janet Rockett 851424 or Pat Radford 851480