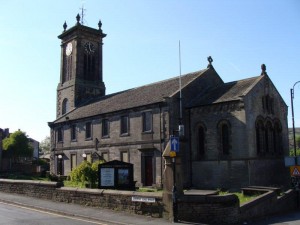 Welcome to St Bartholomew's, Meltham.
Join us on Sunday's at 9:30am and Wednesday's at 9am.  All welcome!
Our main worship is Sung Eucharist.  We also have our children's group, Smart-Bart's which meet in the front pews at the start of the service before going off to do their own activities in the rooms upstairs.  On the fourth Sunday of each month, we have our Worship4All service where the whole church family, young and old worship together and share in Holy Communion.  Also on a Wednesday morning we have a said Holy Communion service at 9am.
Please see the parish facebook page for info about other special services and events and changes to the normal service pattern.
The Church is also usually open on Saturday mornings (10am – 12pm) for visitors.
We are very fortunate to have a dedicated team of bell ringers who ring the bells each Sunday morning 30 minutes before the service (9:00 – 9:30am).  Bell ringing practice takes place on Thursday evenings for 1 hour (7:00 – 8:00pm).  The bells are also rung on request at Weddings and other special events.
All are welcome at our services and events.