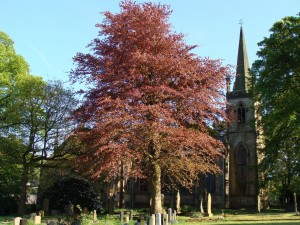 WELCOME to St James', Meltham Mills.
St James' Church has an informal, welcoming atmosphere with a diverse range of ministries.
Sunday services start at 9:30am or 5pm for 5-Alive.  Please refer to the parish calendar for dates of services.
Inclusivity and diversity are important to us. This is reflected in the variety of worship services and a growing children's ministry – 'Rock Solid' which meets twice a month during Sunday morning services.  Types of service include:
Holy Communion.
Informal '5 Alive' celebration which starts at 5pm and follows a bring-and-share afternoon tea which is open to all and starts at 4.30pm. At '5 Alive', children and adults alike are encouraged to interactively explore Bible stories, prayers and worship together through multisensory media in a cafe style setting. The church building is open as normal on the morning of '5 Alive' Sundays for quiet prayer.
Meditation service where the sermon is replaced by a thought-provoking visual meditation.
On fifth Sundays, and occasionally for other special occasions, we share in a joint worship service of the four Church of England Churches around Meltham. The location for this rotates around the four church buildings.
In addition to our Sunday worship, St James' plays host to a number of other ministries:
On Friday mornings from April to October the church is open for volunteers to help in the shoebox ministry of Operation Christmas Child. Christmas gifts for underprivileged children throughout the world are packaged and prepared for checking and distribution during the month of November when St James' Church becomes a warehouse distribution centre for the project.
On Friday mornings, a team of volunteers come together for a craft group where greeting cards are recycled to raise funds for the Welcome Centre which supports local families in need.
There are several Oasis Quiet Days organised throughout the year which are open to anyone who wants to take some time out of the rush and bustle of life to enjoy quiet, reflective prayer.
Seasonal events such as Carols in the Park, the Christmas Eve crib service, Holy Week early morning meditations and our Harvest Festival also bring joy and peace to many at special times of the year.
The Church is committed to supporting mission abroad through CMS in Spain, Meltham Mustard Seed in Uganda, Jigsaw Ministries in the Philippines and closer to home, the Welcome Centre in Huddersfield.
Church members explore and share faith through house groups, an occasional Men's Night and AleTalk which meets in the Waggon and Horses in Meltham.
For more information on any of these services, events and ministries please see the Parish Calendar or refer to the parish contact page