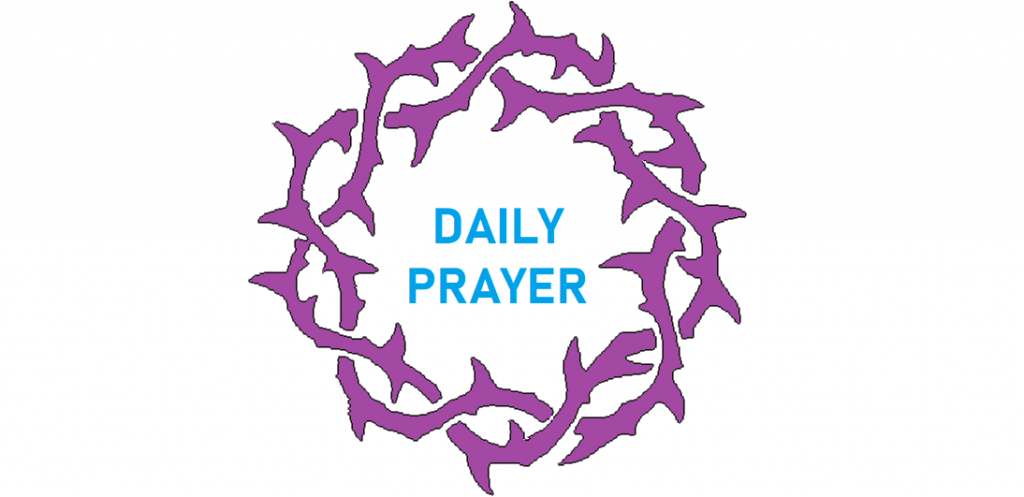 Hello Everyone
We continue with the Senior Church Leaders Call to Prayer over the four weeks of Lockdown and we continue with the final set of prayers.
PRAYER FOR WEEK 4 – 30th November –6th December
Week 4
Loving God, your Son Jesus Christ came that we might have life and have it abundantly;
pour out your blessing upon our nation;
where there is illness, bring your healing touch;
where there is fear, strengthen us with the knowledge of your presence;
where there is uncertainty, build us up in faith;
where there is dishonesty, lead us into truth,
where there is discord, may we know the harmony of your love;
this we ask in Jesus' name. Amen.
A PRAYER FOCUS FOR US TO USE EACH DAY
MONDAY SCHOOLS, COLLEGES, UNIVERSITIES, CHILDREN AND YOUNG PEOPLE
We pray for all those involved in the shaping of young lives. We give God thanks for the sacrifice and commitment of teachers and all those involved in serving children and young people in education.
TUESDAY ELDERLY, ISOLATED ABD VULNERABLE
We echo God's commitment to those most at risk of this virus by praying for those who are particularly vulnerable and isolated. We pray for their deliverance protection and comfort. We hold before God those who care for them – that they would be strengthened and encouraged in this work.
WEDNESDAY BUSINESSES, THE WORKPLACE AND ECONOMIC WELLBEING
In this time of great challenge, we pray for the economic wellbeing of the country. We remember before God those who face great uncertainty in their work. We lift before God those who have lost their jobs and face an uncertain and difficult future.
THURSDAY NHS AND OTHER KEY WORKERS
Our God is the great healer – and the agent used more than any other is the NHS. Today we voice our gratitude for those who serve this country in the National Health Service and pray that God would prosper the work of their hands – that they would be encouraged in their continued work of sacrifice and care amongst us.
FRIDAY NATIONAL AND LOCAL GOVERNMENT
We pray for those who are in positions of authority with responsibility for decision making at national and local level at this difficult time. We ask that God would give great wisdom, deep commitment to all and right judgement.
SATURDAY ALL WHO ARE GRIEVING AND ALL SUFFERING WITH PHYSICAL AND MENTAL ILL-HEALTH.
'Lord the one you love is ill.' John 11.v3
We bring to God all those who suffer in body, mind spirit or with grief. We ask that in God's great loving kindness they might know God's sustaining presence amidst their pain.
SUNDAY FAMILY, FRIENDS AND LOVED ONES
We lift to God those we hold in our hearts – praying for their healing. their well-being and their sense of hope. We pray that even when loved ones cannot physically be together, they would not feel apart. We ask for God's help in our communicating, our connecting and our caring.
Each week during the season of Advent we will have a scripture to reflect on, followed with a Prayer.
SCRIPTURE READING ISA 40:27-31
Why do you say, O Jacob, and speak O Israel, 'My way is hidden from the Lord, and my right is disregarded by my God'? Have you not known'? Have you not heard? The Lord is the everlasting God, the Creator of the ends of the earth. He does not fail or grow weary; His understanding is unsearchable. He gives power to the faint and strengthens the powerless. Even youths will faint and be weary, and the young will fall exhausted; but those who wait for the Lord shall renew their strength, they shall mount up with wings like eagles, and they shall run and not be weary, they shall walk and not faint.
PRAYER
Lord, I am poured out, I come to you for renewal.
Lord, I am weary, I come to you for refreshment,
Lord, I am worn, I come to you for restoration.
Lord, I am lost, and I come to you for guidance.
Lord, I am troubled, I come to you for peace.
Lord, I am lonely, I come to you for Love.
Come Lord,
Come revive me.
Come re-shape me.
Come, mould me in your image.
Re-cast me in the furnace of you love.
Power Lines David Adam
Let us continue to pray for our community, the Crossroads Project and those we know who are struggling at this time with loneliness and the effects of the Virus.
We pray also for the METHODIST ADVENT CHRISTMAS CAMPAGN – GOD IS WITH US'
The campaign name, of course, comes from John Wesley's purported words on his death bed:
'the best of all is, God is with us' and this reminds us that even in the times which feel most uncertain, we can be certain of God.
Who do you know who needs to hear this message over the coming months?
'Keep praying; ask the Lord for help for he is powerful.
That is your weapon; do not lose it. Pray without ceasing, for the Lord is powerful.'
KEEP SAFE – KEEP PRAYING
Peter