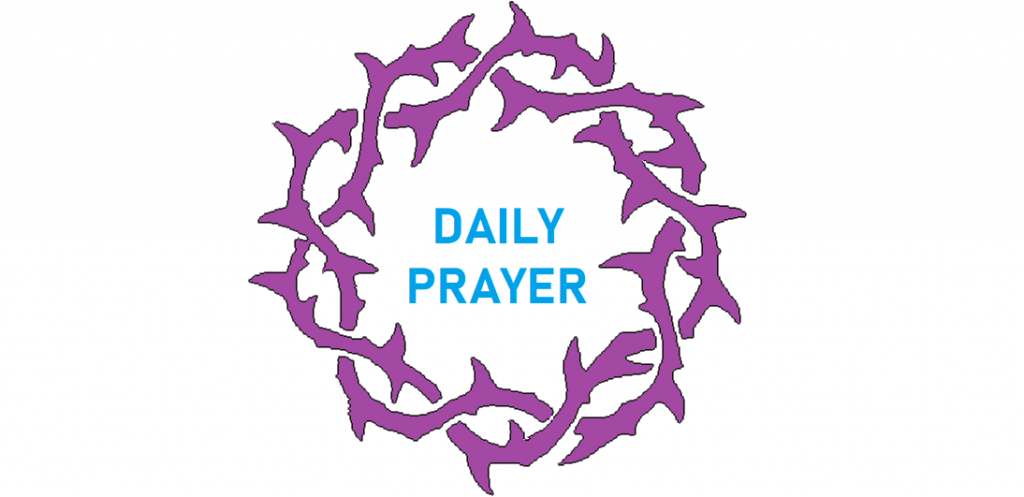 Hello Everyone.
INTRODUCTION May 3
Thy Kingdom Come (TKC) is not new. Our new Archbishop of York has written a booklet for this year which is intended for everyone. The booklet is written to be used daily between Accension Day and Pentecost, two weeks. I have broken the material down to cover four weeks and not two. Thus, giving more time and space to be used and reflected on by you, as you will. One sitting for each of the four weeks or using the material sheets daily for each of the four weeks. You might find it helpful to have paper and pen handy for questions and insights you might have.
RENEW US BY YOUR SPIRIT
This booklet is intended for everyone. We all need the encouragement of the basic promises of the Christian faith to help us live the life God gives us to the full. The COVID-19 pandemic has hit every area of our lives: where we can go, whom we can see, how we can worship. In the time between Ascension Day and Pentecost, Thy Kingdom Come is a gift to refresh our faith, especially if we felt isolated from our community or our Church during this difficult time.
I have also written this in the hope that those who don't know Jesus at all may find in these pages the hope they long for. So, if you are already a follower of Jesus, receive this as a reminder and an encouragement of why and how following Jesus makes a difference to you. Why not think about who you could give a copy to and how you could be praying for those you know who also need the hope of the gospel. And if you are yet to encounter Jesus Christ, my hope is that you will do so in what you read and reflect on in this booklet. Each day there are a few things to read, a prayer to offer and then an invitation for you to make your own reflections on what it means to follow in the way of Christ. You don't have to write anything down, but you may find it helpful. Don't worry if this isn't you. Just ask God to help you see clearly how you can follow Jesus and who you can help. And do this not only with yourself in focus, but also those you know – maybe pray for 5 friends, family, neighbours, colleagues – who live their lives yet to know the love offered to them in Christ Jesus. In these days of hopeful waiting and praying between Ascension and Pentecost, may we all be renewed by the Spirit; made new in Christ.
Stephen Cottrell —Archbishop of York
WEEK ONE — 1 JESUS – Followers of Jesus
The first followers of Jesus weren't called Christians. That came later. They were called followers of 'the way' (see Acts 24.14). This seems like a good place to start: especially at such a dark and difficult time for our world. The Christian faith is a way of life. In fact, Jesus himself says to his friends on the night before he dies, "I am the way". Jesus shows us what humanity can be like when it is lived God's way. His kindness, generosity, goodness, and forgiveness are from God. This is what God is like. God welcomes everyone. Life is hard. The way ahead isn't obvious. And faced with difficulty and uncertainty, God doesn't send us a rule book or a map. He sends a companion to walk with us: Jesus, the way. And he is not just the way for us – but for each and every person. Let us pray for those we know and love that they may find the way of Christ.
PRAYER
Loving God, when I'm feeling lost or lonely or afraid or uncertain of the way ahead, be my guide, a lamp to my feet and a light for my path. And today help me to be a good companion to those I meet.
READINGS
Thomas said to him, ""Lor d, we do not know w here you are going. How can we know the way?" Jesus said to him, "I am the way, and the truth, and the life. No one comes to the Father except through me. (John 14. 5-6
Why are you cast down, O my soul, and why are you disquieted within me? Hope in God; for I shall again praise him, my help and my God. (Psalm 42. 11)
WEEK ONE–2—PRAISE –the way of abundant joy.
In Christian worship there is lots of praise. Christians often tell God how brilliant God is. What sort of God needs this, is often the response from those who are new to the Christian faith? God must be very insecure, they think. But we don't praise God because God needs it. We do it because we need it. When we praise God we put ourselves in perspective. We acknowledge that God is the source and origin of everything, even the breath that we're taking right now. Without God, there is nothing. There is no one who doesn't need to know that. The way of life which is the way of Jesus Christ is a way of abundant, appreciative joy. Even in the darkest hours, we believe in the light, we praise him. And from the perspective of his light pray for others.
PRAYER
Faithful God, help me to understand myself, so that even in the most difficult times I may know your presence with me and may sing your praises, defiantly praising your goodness even when there is so much that is wrong. And today, help me show others the good things I receive in Christ and show the world His way.
WEEK ONE — 3 –THANKS— expanding the heart
When we stood outside on Thursday evenings in the summer of 2020 cheering the NHS, did we realise how much it would change us? By giving thanks, by praising, we learnt to put the needs of others before our own. We discovered a deep appreciation for those who put their lives at risk to serve us. Thanksgiving expands the heart. We cheered other key workers as well. And who would have thought that the person stacking the supermarket shelves was an essential worker? We learnt that we belong to each other: that my well-being is tied up with everyone's well-being; that Covid-19 won't be dealt with anywhere, until it is dealt with everywhere. This is also the way of Jesus, where we learn that we are sisters and brothers, children of one God. Let us pray that the people we know, and the whole world, may find the way of Christ.
PRAYER
Generous God, fill my heart with thanksgiving for all the blessing I receive in life. Expand my heart, and help me love, support and cherish those who serve me. And today help me to live as sister or brother to all whom I meet
READINGS
Let the peace of Christ rule in your hearts, to which indeed you were called in the one body. And be thankful. (COLOSSIANS 3:15
Let us know, let us press on to know the Lord; his appearing is as sure as the dawn; he will come to us like the showers, like the spring rains that water the earth. (Hosea 6.3)
KEEP SAFE– KEEP PRAYING
Peter