October 3rd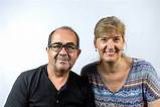 On Sunday October 3rd Sarah Yanez who works with her husband Felipe in Malaga for the Church Mission Society is coming to Meltham. Sarah and Felipe have been heavily involved with Foodbanks in Malaga.
We are having a Parish Lunch at 12.30 with Sarah at the Church Hall next Sunday. All are welcome. We obviously need an idea of numbers cos Rev John is buying in Meat and Potato Pie!
Could you WhatsApp Nigel direct on 07885430085 or email on nigel.priestley@ridleyandhall.co.uk. It will be good to meet together!