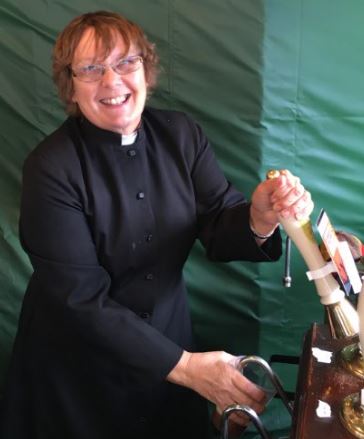 Shortly, we shall be saying farewell to our brilliant and much loved Vicar of #Meltham Rev'd Maureen Read as she moves to take up a part time role in the Benefice of The Meres and Meadows, Shropshire, in the Diocese of Lichfield.
Everyone is invited to say farewell to both Rev'd Maureen and John at a special Songs of Praise service. Please join them
for a good sing song of some of their favourite hymns at St Bartholomew's, Meltham on Sunday (10th) at 4:30pm and afterwards for a PARTY in the Church Hall opposite.
Rev'd Maureen was originally planning for retirement in July 2018 when she will reach 20 years of ordained ministry – it seemed a good time to begin the next chapter of her life. Instead, as has happened so often, God had other plans and she said 'Yes!' to Him.
The benefice consists of four Parish Churches, but on a much smaller scale than Meltham. It is a part time incumbency (0.6) and the total population is 1600 with the biggest school having 73 children – fully subscribed!
The message she received through her prayers was that she needed to slow down but not stop!
So, the time has come to say farewell. They will be sadly missed by all the church family across the Parish and people in the wider community.
Please pray for Maureen and John as they begin the next chapter in their lives, and come along to give thanks, and say farewell – ALL WELCOME.