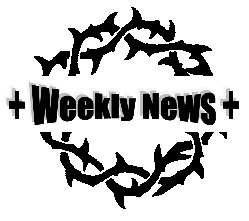 PLEASE PRAY for peace among the church and God's people. In times of trouble, persecution and testing of our endurance, collectively and personally, pray that we will look to Jesus and follow His example of patience and strength.
Thought for today: Remember this – you never lose as much as when you lose your peace. (Inspiration from Smith Wigglesworth 365 Day Devotional)
READ THE GOOD NEWS – John 6.24-35
Remember that as it says here, God's purpose for our lives is to believe in the One He sent – Jesus. 'Then Jesus declared, "I am the bread of life. Whoever comes to me will never go hungry, and whoever believes in me will never be thirsty."
PRAYER AND WORSHIP IN THE COMING WEEK
Monday 6th August
9.30am – Morning Prayer, Christ Church
Tuesday 7th August
9.30am – Morning Prayer, St Mary's
Wednesday 8th August
09.00am – BCP Holy Communion, St Bart's
10.00am – Meltham Churches Together Prayers for the Community, St Bart's
NEXT SUNDAY 12th August
9.30am – Holy Communion at St Bartholomew's, Meltham
11.15am – Morning Worship & Meditation at St Mary's, Wilshaw
2:30pm – Thanksgiving Songs of Praise at St Bartholomew's, Meltham
Other dates for your diary
Friday 10th August
9am–3pm St James' Operation Christmas Child working group
10am-12pm St James', Community Card Group
10.30am-12pm St Bart's, Coffee and Chat.
Please send all weekly news entries to Amelia at parishofchristtheking@gmail.com