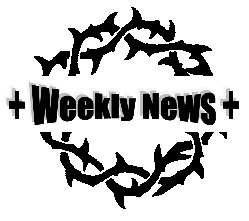 PLEASE PRAY for California and other areas as they battle fierce fires sweeping through towns and homes. For all those who have lost their homes and possessions. For those who have lost family and friends. Please pray for the winds to die down and the fires to cease.
READ THE GOOD NEWS – Mark 13.1-8
Let us be aware and wise to the signs that Jesus mentions regarding the end times. Let us not be deceived but be prepared by remaining close to Him.
PRAYER AND WORSHIP IN THE COMING WEEK
Monday 19th November
9.30am – Morning Prayer, Christ Church
Tuesday 20th November
9.30am – Morning Prayer, St Mary's
Wednesday 21st November
9.00am – BCP Holy Communion, St Bartholomew's
10.00am – Meltham Churches Together Prayers for the Community, St Bartholomew's
NEXT SUNDAY 25th NOVEMBER
St Bartholomew's – Holy Communion, 9.30am
St James' – Holy Communion, 9.30am
St Mary's – Service of the Word, 11.15am
Christ Church – Holy Communion, 11.15am
OTHER INSERTS FOR YOUR DIARY:
Saturday 24th November – 10.00am – 12.00pm
"Crisis" Coffee Morning – Raising money for the "Crisis" charity that supports the homeless throughout the year. Event includes various stalls at St James' Church,
Throughout December
Advent with Tearfund – Every day, in the run up to Christmas, Tearfund are sending out inspirational messages including videos, prayer and reflections for your personal quiet times. Why not join the campaign 'Real Advent' and use the precious days before Christmas to prepare your heart and minds? And be expectant for the season of Jesus' birth. To receive the daily reflections visit 'Christmas with Tearfund' and enter your email address.
Please send all weekly news entries to Amelia at parishofchristtheking@gmail.com