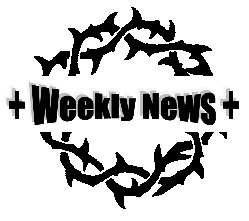 PLEASE PRAY that the joy and hope of Easter inspires all of our thoughts, words and actions as we live our lives in this Parish and the wider world. Love so amazing, so divine, demands my soul, my life, my all.
READ THE GOOD NEWS – John 21, 1-19
When we are faced with situations that are just incredulous and baffling – may we look for God at work – showing us that his love and power are
bigger than we can ever imagine.
PRAYER AND WORSHIP IN THE COMING WEEK
Monday 29th April
9.30am Morning Prayer, Christ Church
Tuesday 30th April
9.30am Morning Prayer, St Mary's
Wednesday 1st May
09.00am BCP Holy Communion, St Bart's
10.00am Meltham Churches Together Prayers for the Community, St Bart's
10.30am Holy Communion at Bell House, Wilshaw.
NEXT SUNDAY 5th May
09.30am St Bart's, Holy Communion
09.30am St James', Service of the Word and Baptism
11.15am Christ Church, Holy Communion
11.15am St Mary's, Service of the Word
OTHER DATES FOR YOUR DIARY
Tuesday 30th April.
2pm at St Bart's – Women's Fellowship. Speaker – Pat Alker from SIFT.
Friday 3rd May
09.00am–3.00pm St James' Operation Christmas Child working group
10.00am­12 noon St James', Community Card Group
10.30am-12 noon St Bart's, Coffee and Chat.
Monday 6th May – Scarecrow Festival
Refreshments in Church Hall – 10am to 2pm
Visit the St Bart's Bell Tower – 10am to 2pm (over 6's please and all children accompanied by an adult)
Please send items for the weekly news to ruthmurraywebster@gmail.com, or call Ruth on 07974 943443