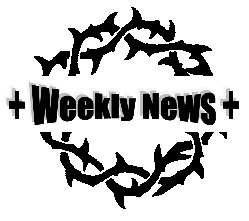 PLEASE PRAY for our Parish, that we continue to celebrate our different traditions, but do so focused on the bigger priority of working together to help all people in Meltham, Meltham Mills, Helme and Wilshaw to have the opportunity to know and trust God – Father, Son and Holy Spirit.
READ THE GOOD NEWS – John 16, 12-15 – We trust in God the Holy Spirit who does not speak alone and guides us in what is yet to come.
PRAYER AND WORSHIP IN THE COMING WEEK
Monday 17th June
9.30am Morning Prayer, Christ Church
Tuesday 18th June
9.30am Morning Prayer, St Mary's
Wednesday 19th June
10.00am Meltham Churches Together Prayers for the Community, St Bart's
11.00am Quarterly Holy Communion and lunch, St Bart's
NEXT SUNDAY 23rd June
09.30am St Bart's, Holy Communion
09.30am St James', Holy Communion
11.15am Christ Church, Service of the Word
11.15am St Mary's, Service of the Word
OTHER DATES FOR YOUR DIARY
Friday 21st June
09.00am–3.00pm St James' Operation Christmas Child working group (with soup lunch)
10.00am-12 noon St James', Community Card Group
10.30am-12 noon St Bart's, Coffee and Chat.
Friday 21st, Saturday 22nd, Sunday 23rd June
FLOWER FESTIVAL at St Mary's, Wilshaw.
ADVANCE WARNING OF A TRIP TO HELME!
Sunday 30th June
11.15am JOINT PARISH COMMUNION at Christ Church, Helme.
Come and celebrate and dedicate the work of our Parish with Rev'd John.