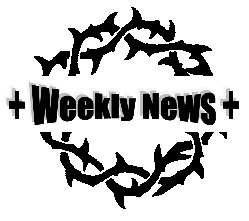 PLEASE PRAY that wherever we find ourselves this week, we are encouraged to talk about Jesus even when it might be difficult or controversial to do so. Pray that we have the confidence to live in such a way that makes no sense unless Jesus is alive. And leave the rest to God.
(inspired by Nell Goddard's blog for London Institute for Contemporary Christianity, 17/6/19)
READ THE GOOD NEWS: Luke 8, 26-39
Our chains and demons are no more when we commit to listening to and trusting Jesus.
PRAYER AND WORSHIP IN THE COMING WEEK
Monday 24th June
9.30am Morning Prayer, Christ Church
Tuesday 25th June
9.30am Morning Prayer, St Mary's
Wednesday 26th June
9.30am Holy Communion BCP, St Bart's
10.00am Meltham Churches Together Prayers for the Community, St Bart's
1.30pm Greenacres Holy Communion
2.00pm Helme Hall Holy Communion
NEXT SUNDAY 30th June
11.15am JOINT PARISH COMMUNION at Christ Church, Helme.
OTHER DATES FOR YOUR DIARY
Tuesday 25th June
1.00pm Women's Fellowship trip to Wentworth Garden Centre – no service in Church
Wednesday 26th June
7.30pm Growth & Development meeting at the Vicarage.
We know that prayer works, come and join us.
Friday 28th June
09.00am–3.00pm St James' Operation Christmas Child working group (with soup lunch)
10.00am-12 noon St James', Community Card Group
10.30am-12 noon St Bart's, Coffee and Chat.
7.00pm St James' Women's Speaker and Supper
Evening with Jane Collins talking about her latest visit to Kyema and the Mustard Seed Project.
ADVANCE WARNING
Friday 5th July
7.30pm St James' Quiz Night and supper (£8.50 per ticket) in support of the Shoe Box Project
(Operation Christmas Child)
Sunday 7th July
St James' BBQ