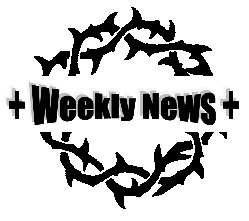 PLEASE PRAY for our young people and their teachers as they break up from school and colleges for the summer break. Pray they will be safe and have an opportunity to rest and come back in September rejuvenated. God of play, God of learning – help us to follow you.
READ THE GOOD NEWS – Luke 10, 25-37
We all know the parable of the Good Samaritan. Help us to know our neighbours – next door and all over the world and shown them love them, as God loves us.
PRAYER AND WORSHIP IN THE COMING WEEK
Monday 15th July
9.30am Morning Prayer, Christ Church
Tuesday 16th July
9.30am Morning Prayer, St Mary's
Wednesday 17th July
9.30am Holy Communion BCP, St Bart's
10.00am Meltham Churches Together Prayers for the Community, St Bart's
NEXT SUNDAY 21st July
09.30am St Bart's, Holy Communion
09.30am St James', Service of the Word
11.15am Christ Church, Holy Communion
11.15am St Mary's, Service of the Word ANIMAL SERVICE – bring your animals large and small.
OTHER DATES FOR YOUR DIARY
Wednesday 17th July – PCC @ St Bartholomew's
Friday 19th July
09.00am–3.00pm St James' Operation Christmas Child working group (with soup lunch)
10.00am-12 noon St James', Community Card Group
10.30am-12 noon St Bart's, Coffee and Chat.
ASK MELTHAM Meltham Town Council, in conjunction with Kirklees Council, are conducting an ASK MELTHAM exercise in the next few weeks. Jean Caunce, a member of St James' congregation is a volunteer helping to collect data. Over the coming weeks she may approach you during coffee after a service to ask a few questions. What you say will be anonymous. Hopefully you'll be happy to help so we can work to make Meltham an even better place to live.