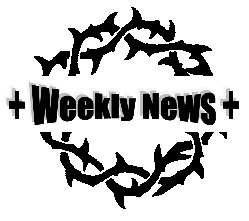 PLEASE PRAY for families who need to adjust to new circumstances: transition to new schools, to university, to the world of work for the first time. Pray for all who struggle with change, and help them to see the unbounded possibilities in your world.
READ THE GOOD NEWS – Luke 14, 1 and 7-14
We are called to serve – to humble ourselves and put others first. For everyone who exalts himself will be humbled, and he who humbles himself will be exalted (Luke 14:11)
PRAYER AND WORSHIP IN THE COMING WEEK
Monday 2nd September
9.30am Morning Prayer, Christ Church
Tuesday 3rd September
9.30am Morning Prayer, St Mary's
Wednesday 4th September
9.00am Holy Communion BCP, St Bart's
10.00am Meltham Churches Together Prayers for the Community, St Bart's
10.30 Holy Communion, Bell House
NEXT SUNDAY 8th September
09:00am St Bart's, BCP Holy Communion (said)
10.30am St Bart's, CIVIC SERVICE
5.00pm St James', meet for food at 4.30pm before 5 ALIVE
OTHER DATES FOR YOUR DIARY
Friday 6th September
09.00am–3.00pm St James' Operation Christmas Child working group (with soup lunch)
10.00am-12 noon St James', Community Card Group
10.30am-12 noon St Bart's, Coffee and Chat.
Saturday 7th September
Discover the hidden call in your everyday life through a creative retreat with poetry, silence and conversation. St James 10-4 including lunch. A
donation of £5-£10 is requested but not compulsory. To book a place contact bethan.lucy.aspland@outlook.com or call 07963 876309