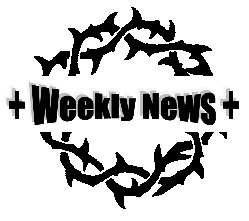 PLEASE PRAY that we can be thankful for what we have and generous to those in need as winter draws in.
READ THE GOOD NEWS – Luke 21 5-19 Help us to stand firm in our faith in Jesus,the Risen Lord who gives us everything we need, when we need it.
PRAYER AND WORSHIP IN THE COMING WEEK
Monday 18th November
9.30am Morning Prayer, Christ Church
Tuesday 19th November
9.30am Morning Prayer, St Mary's
Wednesday 20th November
9.00am Holy Communion BCP, St Bart's
10.00am Meltham Churches Together Prayers for the Community, St Bart's
NEXT SUNDAY 24th November
09.30am St Bart's, Holy Communion
09.30am St James' Holy Communion
11.15am St Mary's, Holy Communion
11.15am Christ Church, Service of the Word
OTHER DATES FOR YOUR DIARY
Tuesday 19th to Saturday 23rd November
IOLANTHE performed by the Gilbert & Sullivan Society in the Parish Hall. Humour about parliament from 100 years ago & still relevant?!
Friday 22nd November
10.30am-12 noon St Bart's, Coffee and Chat.
Saturday 23rd November
10.00am to 12 noon St James'
CRISIS COFFEE MORNING and ARTS/CRAFTS MARKET
PLEASE SUPPORT ON THE DAY OR IN ANY WAY YOU CAN
Thousands of people will be without a home this Christmas and are in urgent need of the unique package of support that Crisis offers. A donation of £28.87 could reserve a place for someone this Christmas and introduce them to the education, training and support to help end their homelessness for good. www.crisis.org.uk/everybodyin
Meltham Shoe Box Project is open for the delivery of filled shoe boxes from the 11th – 29th November, 10am – 5pm, Monday to Friday at St. James' Church, Huddersfield Road, Meltham Mills, HD9 4AL
And if you can support the Methodist Church's Christmas Tree Festival on 23/24 November to mark the start of Advent details are in the magazine.