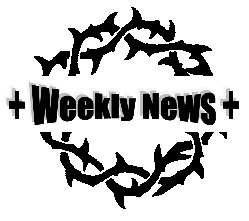 PLEASE PRAY and celebrate as we enter the last week of the church's year that whatever we do this week, we do it with Jesus, for Jesus and like Jesus who has the authority and has set us free.
READ THE GOOD NEWS – Luke 23 v33-43 Today, and everyday, we can be with Jesus – Christ the King. Crown Him with Many Crowns.
PRAYER AND WORSHIP IN THE COMING WEEK
Monday 25th November
9.30am Morning Prayer, Christ Church
Tuesday 26th November
9.30am Morning Prayer, St Mary's
1.30pm Holy Communion at Greenacres
Wednesday 27th November
9.00am Holy Communion BCP, St Bart's
10.00am Meltham Churches Together Prayers for the Community, St Bart's
Thursday 28th November
2.00pm Holy Communion at Helme Hall
NEXT SUNDAY 1st December – Advent Sunday
09.30am St Bart's, Holy Communion
09.30am St James' ALL FOR ONE Service of the Word
11.15am St Mary's, Service of the Word
11.15am Christ Church, Holy Communion
OTHER DATES FOR YOUR DIARY
Tuesday 26th November
12.30pm for 1pm. Women's Fellowship Christmas Lunch at Meltham Golf Club. Contact Christine for more details (850366).
Wednesday 27th November
7.30pm-9pm Growth and Development evening at the Vicarage. Everyone is welcome to share ideas and pray together.
Friday 29nd November
10.30am-12 noon St Bart's, Coffee and Chat.
7.30-9pm St Mary's Youth Group HD9 Club
Saturday 30th November
09.30am-2pm St. Bart's Christmas Fayre in the Church Hall.
2pm – onwards – Meltham Christmas Lights Switch-on – various events going on throughout the day and into the evening.