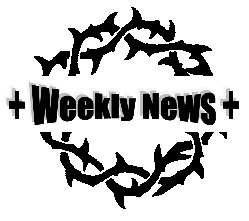 PLEASE PRAY as we enter the Advent season that we can delay instant gratification and wait patiently for Jesus – his birth, resurrection and coming again. And pray that Carols in the Park on 1st December speaks to our community of something of God's love for us all in this season, bring them peace and a thirst to know and experience more.
READ THE GOOD NEWS – Matthew 24: 36-44 – We cannot know when Christ will come again but we believe the promise that He will. Are we ready?
PRAYER AND WORSHIP IN THE COMING WEEK
Monday 2nd December
9.30am Morning Prayer, Christ Church
Tuesday 3rd December
9.30am Morning Prayer, St Mary's
Wednesday 4th December
10.00am Meltham Churches Together Prayers for the Community, St Bart's
10.30am Holy Communion at Bell House, Wilshaw.
11.00am Holy Communion and Lunch, St Bart's. If you know anyone who would like to come and needs a lift, please contact Val on 850496.
NEXT SUNDAY 8th December
09.30am St Bart's, Holy Communion
09.30am St James', Holy Communion
4.30pm St James' FIVE ALIVE
11.15am St Mary's, Holy Communion
11.15am Christ Church, Service of the Word
OTHER DATES FOR YOUR DIARY
Friday 6th December
10.30am-12 noon St Bart's, Coffee and Chat.
Patrice Storey is the new contact for Meltham Mustard Seed at St Bart's – please let Patrice know if you can help with this wonderful project.