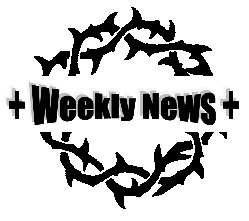 PLEASE PRAY for peace and understanding in our Parish, in our Diocese, across the United Kingdom and around the world. In this week where political differences will be at the fore, help us not to be swayed from God's message of unconditional love for others.
READ THE GOOD NEWS – Matthew 3: 1-12 – Make way for the King of Kings and let him into your life.
PRAYER AND WORSHIP IN THE COMING WEEK
Monday 9th December
9.30am Morning Prayer, Christ Church
Tuesday 10th December
9.30am Morning Prayer, St Mary's
1.30pm Songs of Praise, Greenacres
Wednesday 11th December
09.00am Holy Communion, St Bart's
10.00am Meltham Churches Together Prayers for the Community, St Bart's
NEXT SUNDAY 15th December
09.30am St Bart's, Holy Communion
09.30am St James', Service of the Word
11.15am St Mary's, Service of the Word
11.15am Christ Church, Holy Communion
6.00pm St Mary's CAROL SERVICE OTHER DATES FOR YOUR DIARY
Wednesday 11th December
OASIS Quiet Day, St James'
10.00am to 3.00pm (or any time inbetween), come and pause a while in the presence of God (bring a packed lunch if staying all day).
Friday 13th December
10.30am-12 noon St Bart's, Coffee and Chat.
7.30pm- 9.00pm HD9 Club – Wilshaw – Christmas Party.
Saturday 14th December
8.00pm CAROLS IN THE PUB – Waggon and Horses, Meltham.