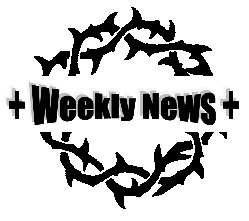 PLEASE PRAY for our Parish and our work in Meltham, Meltham Mills, Wilshaw and Helme to show the love of God to all people. Help us to work together so that our shared passion for Christ and care for others is what we communicate to each other and our community. Help us to take forward the message of Christmas into 2020 – to take
action to pursue peace and love for all, however hard that sometimes seems.
READ THE GOOD NEWS – Matthew 2: 13 to end – God saves. Help us to trust Him even when evidence of hatred, genocide and persecution in the world might cause us to doubt our faith.
PRAYER AND WORSHIP IN THE COMING WEEK
Monday 30th December
09.30am Morning Prayer, Christ Church
Tuesday 31st December
09.30am Morning Prayer, St Mary's
Wednesday 1st January – NEW YEARS DAY
NOTE! – NO SERVICE AT St Bart's
10.30am Holy Communion at Bell House, Wilshaw
NEXT SUNDAY 5th January – Epiphany
09.30am St Bart's, Holy Communion
09.30am St James' ALL FOR ONE Family Service of the Word
11.15am Christ Church, Holy Communion
11.15am St Mary's, Service of the Word
OTHER DATES FOR YOUR DIARY
Friday 3rd January
10.30am-12 noon St Bart's, Coffee and Chat.
1:30pm – Funeral of Sheila C – St Bart's.
Friday 10th January
7.30-9pm St Mary's Youth Group HD9 Club
For 11-17 year olds – a great place to make new friends.