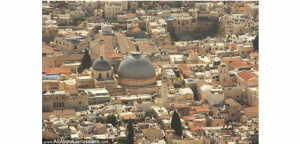 WALKING THE 14 STATIONS OF THE CROSS – JERUSALEM.
Along the "Via Dolorosa" (Latin for: "Way of Grief" or "Way of Suffering").
The Church of the Holy Sepulchre, Jerusalem.
Please find to download, a copy of the 14 Stations of the Cross for your own visitation and reflection throughout Holy Week.
We had intended to have a service for this tonight at Christ Church, Helme – but of course this was no longer possible due to the Coronavirus – Covid 19 situation.
I hope that you can make good use of it – using the pictures and words for your own reflections and prayers.
Stay strong and well.
With much love
Rev'd Dennis