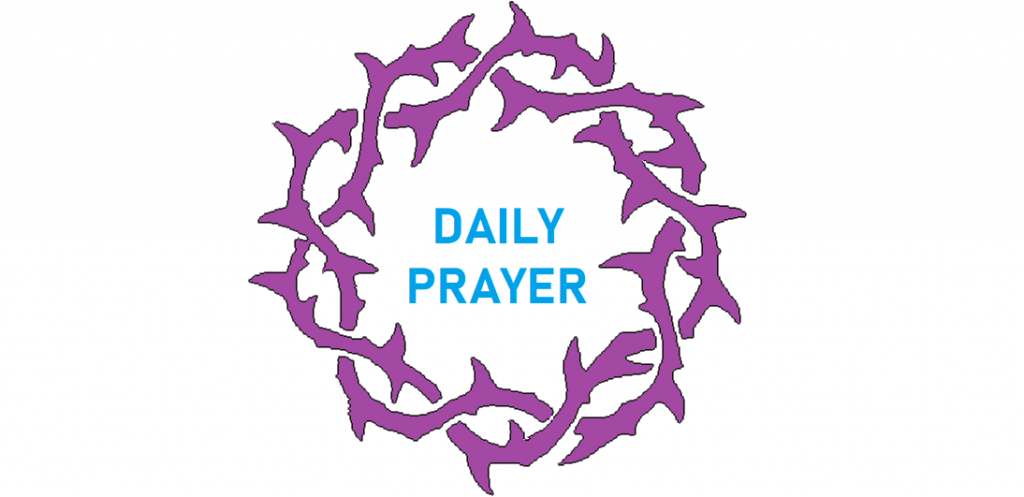 Hello Everyone
We have been on lockdown for over quarter of the year since the first shock waves of the Coronavirus Pandemic which was travelling rapidly throughout the world, hit us. A chance conversation between Liz Noble from the Methodist church and Judith Powell, Anglican, and the publication of Nick Fawcett's book of prayers "For a time such as this" set the pathway for the daily 11 o'clock Prayer time with some sense of solidarity as we stop to pray apart at the same time as others. Members of our Meltham churches have been praying at home following a prayer sheet distributed weekly Via email through Meltham Churches Together. Our thanks to Liz & Judith and all who, although unknown, stop to Pray around 11 am or for some at a more suitable time to suit lifestyle.
Prayer doesn't come easily. You want to bring your fears before God. You want to commit yourself and your loved ones into his keeping. You want to pray for the innumerable people facing unimaginable difficulties and hardship at this time due to the pandemic that has descended so swiftly upon us. We feel almost numbed, almost lost for words, almost as though our own little concerns (however huge they may feel to us personally) are relatively trivial in relation to the scale of the crisis now facing our world. Yet we need to pray, today, more than ever. Not that prayer will guarantee our safety or that of our loved ones, or that it will miraculously put everything right. We need simply to seek help and strength from God to get through whatever the months ahead may bring , as now we relax the disciplines we have had to exert , to keep people safe.
Listen For gods Voice Psalm 25:4—10 ……….Both Scripture & Prayer
4 Show me the right path, O Lord; point out the road for me to follow.
5 Lead me by your truth and teach me, for you are the God who saves me.
All day long I put my hope in you.6 Remember, O Lord, your compassion and unfailing love, which you have shown from long ages past.7 Do not remember the rebellious sins of my youth. Remember me in the light of your unfailing love, for you are merciful, O Lord.8 The Lord is good and does what is right; he shows the proper path to those who go astray.9 He leads the humble in doing right, teaching them his way.
10 The Lord leads with unfailing love and faithfulness all who keep his covenant and obey his demands.
The concern of the Psalmist is to know God's will, He wants to be on the right pathway. So for that reason he prays to God for guidance.
The prayer for guidance begins with a period of waiting. You come before the Lord
In the quiet. You are trying to hear. Have you been in a place where there is just a faint sound? You even stop breathing so you can hear better. We need to get quiet before our God. We need to get quiet inside and out and this takes some doing. You are astonished to discover how much noise is in you mind, in your whole being, how full of noise you are. If you want to hear God's voice you have to get quiet.
May these prayers calm your anxiety and strengthen your faith. Let the Holy Spirit guide you in the way of truth and glory of God. 
In Scripture, we are reminded of God's guidance in our lives.
Jesus is our good Shepherd who leads us and desires that we follow the path that leads to joy and peace. As we pray for God's guidance and for discernment through the Holy Spirit, we can rest assured that God will bestow us with wisdom and the inspiration to live within His will!
Trusting in God to transform what seems hopeless
Hold on to us, Lord, through this troubled time. Where there is sickness, may there also be health. Where there are tears, may there also be laughter. Where there is despair, may there also be hope. Where there is fear, may there also be trust. Where there is hardship, may there also be help. Where there is doubt, may there also be faith. Where there is weakness, may there also be strength. Where there is defeat, may there also be victory. Where there is chaos, may there also be calm. Where there are problems, may there also be solutions. Where there is distancing in body, may there also be a coming together in spirit. Where there is death, may there also be life. Come, Lord, and work your miracle of love, out of darkness bringing light. Amen.
Putting our trust in God rather than ourselves
We thought we were in charge of our destiny, Lord; that we had all the answers, all the solutions to our problems, nothing being beyond our wit to solve. And no doubt in time we will beat this virus, as we have beaten many others, human ingenuity triumphing again over adversity. But this crisis of recent months has reminded us that we're not quite so much in control as we like to imagine; that life is less secure, less certain than we sometimes think, and that much of what we take for granted can be swept away in an instant. Help us to recognise our limitations as well as our achievements, our vulnerability as well as our strengths, and may we find in you one whose promises endure beyond the changes and chances of this fleeting world, enfolding us, and all things, in your eternal, unchanging love. Amen.
A plea for God to reach out and help us
Show us that you're listening, prove to us you care, come and bring us healing. Father hear our prayer. Show us that you're with us, help us know you're there. Offer strength and comfort. Father hear our prayer. Show us that we matter; in these trials we bear, give us help and wisdom. Father hear our prayer. Show us there's a future, save us from despair. Grant us hope and courage. Father hear our prayer.
Keep Safe, keep praying, and keep listening for the voice of God and His guidance for you!
Peter