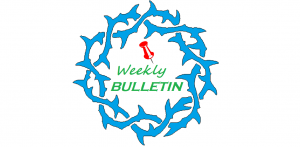 Then one of them said, "I will surely return to you about this time next year, and Sarah your wife will have a son." Now Sarah was listening at the entrance to the tent, which was behind him. Abraham and Sarah were already very old, and Sarah was past the age of childbearing. So Sarah laughed to herself as she thought, "After I am worn out and my lord is old, will I now have this pleasure?"
Then the Lord said to Abraham, "Why did Sarah laugh and say, 'Will I really have a child, now that I am old?' Is anything too hard for the Lord? I will return to you at the appointed time next year, and Sarah will have a son." Sarah was afraid, so she lied and said, "I did not laugh."
Genesis18:10-15
No matter how old or tired we may be or feel, our God has the power, will, and love to breath new life into his people. Even if there are times when we struggle to see how he might be able to do this, we can trust that he can, and I believe we can trust that he will.
Reverend John (Vicar)
Social distancing, services and buildings.
Last weekend the government announced that we would soon be allowed to begin opening our buildings for private prayer. Since then this has been clarified to, private prayer. We have been considering for some weeks, how we might facilitate various possibilities for opening our buildings. Unfortunately these plans cannot become concrete decisions until after we have received the governments full guidance. This was not made available until Friday. The diocese has made it clear that this decision must be agreed between the Vicar and the PCC.
As a result no decision has yet been made. I'm sure you will all agree that it would be inappropriate for us to rush a decision with so many possible implications as this, and that any opening up must be done with the greatest of care. We will however try to make a decision this week.
I fully understand the frustration and desire to return to Church, but please try to be patient, and please pray for all those involved in making these decisions over the coming weeks and months.
Reverend John (Vicar)
Weekly Service Online
Our parish communion will be posted on our website www.melthamparish.co.uk this will be streamed live at 10:30am though can be viewed at any time to suit.
Zoom!
There is a weekly service available at 11:15 via Zoom. The link is available on our website. Help can be given if you haven't used Zoom before.
#melthamprays
Many people are looking for a simple way to pray. I hope that this will offer an opportunity to do so. Please look at the magazine, facebook, or our website for more details.