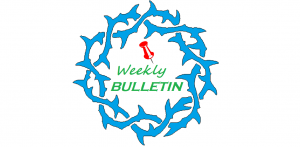 My heart is breaking as I remember how it used to be:
I walked among the crowds of worshipers, leading a great procession to the house of God, singing for joy and giving thanks amid the sound of a great celebration! Psalm 42:4 (NLT)
Psalm 42 will be familiar to many as it is the basis of the song As the deer pants for water. Perhaps this verse resonates with you at the moment as you think about how long it has been since you were able to worship God in Church alongside your Christian brothers and sisters.
The good news is that we can now begin to reopen our Churches. However this will not happen with the celebration and fanfare that some may have hoped. The pandemic may be under control, but it is not yet over.
Our reopening will need to be controlled and restrained, carefully thought through, cautious, and above all else safe. The first opening times will be:
Sunday July 5th 9:30 St Bartholomew's – Meltham
10:30 St James' – Meltham Mills
Sunday July 12th 9:30 St Bartholomew's – Meltham
10:30 St James – Meltham Mills
These will be prayer services and will last about 30 minutes and will not include Communion or hymns. We will have to stay within a safe capacity of around 30 people in each service and if this capacity is reached we will sadly have no choice but to turn people away.
The doors will be opened around 10 minutes before the service and we need to encourage people not to arrive too early to avoid queuing.
There will not be any refreshments after the service and we must ask you not to gather for too long outside.
I understand that this is not the way that any of us would like our fellowship and worship to be but it is a beginning and in time things will improve.
No one should feel under any pressure to come to any of our buildings until they feel ready to do so. In truth, under the current circumstances, it would be difficult if everyone returned at the same time.
Our online services will continue.
God bless, Reverend John (Vicar)
Online Parish Communion Services
Our weekly Parish Communion will continue to be posted on our website www.melthamparish.co.uk and should be available for 10:30am. Please join in if you are able.
Zoom Services
There is a weekly service available at 11:15 via Zoom. The link is available on our website. Help can be given if you haven't used Zoom before.