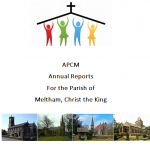 Read all about it! Read all about it!
Find out all that happened in 2019 across the Parish of Meltham, Christ the King. Please read the report which covers all our 4 churches before the APCM on Wednesday. There's a lot goes on!
Reminder – please find details about the meeting and nomination forms here: http://www.melthamparish.co.uk/pages/2020/10/21/annual-parochial-church-meeting-apcm-weds-28th-october/
Please pray for the Vicar and all those who have worked hard keeping things going in our churches and that others will also come forward and offer to service in the various offices – remember, YOUR church needs YOU!