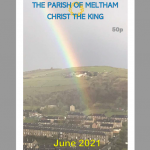 Welcome to the June edition of the #Meltham parish magazine. Thank you to all those who have contributed, it really does help to make it YOUR magazine. This month we look back over the recent years of the Crossroads Project and the wonderful work they do. We continue our feature on how a hymn or song is helpful to express your faith and Pam gives an honest account of her road to confirmation.
We continue to include the Daily Readings and Prayers, it can help in our daily prayer life and either start or finish the day focusing our heart.
The next issue will be a summer bumper issue hopefully full of exciting submissions. The next deadline for our DOUBLE ISSUE will be Friday 18th June. Please send your submissions via: melthamparishmagazine@gmail.com or via the vicarage letterbox (150 Huddersfield Rd, HD9 4AL).