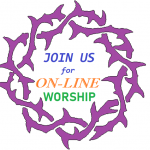 Join us in church or online for Sunday morning worship. All welcome!
9:30am – St Bartholomew's – Meltham (can be joined via YouTube)
9:30am – St James' – Meltham Mills
11:15am – St Mary's – Wilshaw (can be joined via Zoom from 11am)
11:15am – Christ Church – Helme

YouTube link:
https://youtu.be/igvDfxBn_94
Zoom link:
https://us02web.zoom.us/j/83028625701?pwd=RURQemthZHNZRGZXeHEybCtpL2V5UT09
Unfortunately we've had technical issues for the past few weeks and the livestream has ended prematurely (usually in the middle of the sermon!). We're trying various things to resolve this – apologies if it continues to happen – please bear with us.