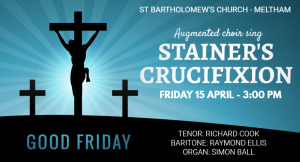 Join us on Good Friday afternoon in St Bartholomew's, Meltham at 3pm to hear a performance of Stainer's Crucifixion with an augmented choir of over 30 voices! Our guest soloists will be Richard Cook (Tenor) and Raymond Ellis (Baritone). At the organ will be Simon Ball.
During the singing, images will be displayed portraying the scenes from the story.
All welcome, free admission, retiring collection.