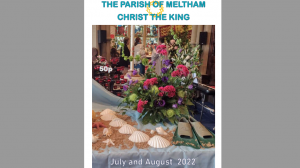 It's a double issue and what a bumper issue it is! We have increased this issue by 4 pages due to all the submissions received. Thank you very much I couldn't have done it without you all! There are some that I couldn't fit into this issue, but don't worry I will ensure they get included in future editions.
This edition, however is full of the success of the Queen's Jubilee (pg 30 & 2) and St Mary's Flower festival (pg 34). There is exciting news on the centre page from Chris Dronsfield and more from Jenny on our new feature 'Going Greener' (pg 9).
Please continue to send in your submissions for the September issue, which will have to be delayed due to the summer break.
The next deadline of the magazine will be:
Friday 26th August 2022
Please send them via:
melthamparishmagazine@gmail.com
or
via the vicarage letterbox.
(150 Huddersfield Rd, HD9 4AL)
God Bless,
Fiona.