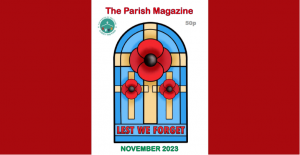 It's here! The November edition of the Meltham Parish Magazine.
Thank you so much once again to all who have contributed this month, this would really be boring if you hadn't!
Please accept my apologies once again for not changing the date on last month's paper edition and for this month's being so delayed. I hadn't intended it to be, it just happened with half term etc. Sorry!
However on a happier note, there is lots to read about and catch up on like the Meltham mustard seed, (pg10). Toddler church moving (pg 25) and how to be more 'greener' this Christmas (pg9).
As always I am very grateful for your submissions so please continue to send them in.
The deadline of the December magazine will be Monday 20th November 2023. Please send them via:
melthamparishmagazine@gmail.com or via the vicarage letterbox (150 Huddersfield Rd, HD9 4AL)
God Bless,
Fiona.