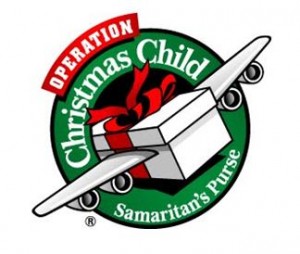 Operation Christmas Child – 45000 extra shoeboxes needed for refugee children.
Could you, as an individual or as a corporate group, help us to achieve this target?
This year has seen many tragedies across the world with families forced to leave their homes, children orphaned, and many thousands fleeing from war and terror, seeking refuge in other countries.
Every year Operation Christmas Child sends over 10,000,000 shoeboxes to needy children in 120 countries with 850,638 sent from the UK in 2014.
This year, with the refugee crisis in Syria, Operation Christmas Child aims to send 45,000 extra shoeboxes from the UK to the refugee children, this is in addition to the boxes that will go to children in other parts of the world!
Shoeboxes are gifts of love containing educational supplies, hats, gloves, scarves, a small toy, toothbrushes, toothpaste, facecloths, soap, small cuddly toys, sweets, jewellery, hair accessories etc. (please NO war toys, scary animals or broken toys).  We would also request a donation of £3 to help with the transport costs of sending the boxes to their recipients.
If you are able to donate filled shoebox(es) please drop it off at St James' Church, Meltham Mills on any Friday between 10am and 3pm or anytime from 2nd November to 27th November 2015 or at the Crossroads Shop in Meltham.
If you would like an Operation Christmas Child volunteer to come and talk to your group or business or would like any more information please contact Judith Powell on 01484 859460 or Grace Dronsfield on 01484 850955