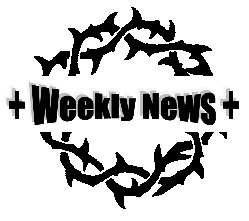 PLEASE PRAY for the places in our community or across the world where, 100 years on from women being able to vote, we still have inequality between men and women despite both being created in God's image. Deeds not Words.
READ THE GOOD NEWS – Mark 9 vv2-9  – This is my son, who I love – listen to him.
PRAYER AND WORSHIP IN THE COMING WEEK
Monday 12th February
9.30am Morning Prayer, Christ Church
Tuesday 13th February
9.30am Morning Prayer, St Mary's
Wednesday 14th February ASH WEDNESDAY
9.00am BCP Holy Communion, St Bart's
10.00am Meltham Churches Together Prayers for the Community, St Bart's
7.30pm Deanery Ashing Service at All Hallows, Almondbury
Thursday 15h February
3.00pm Evening Prayer, St Bart's
NEXT SUNDAY 18th February, 1st Sunday of Lent
9.30am Sung Eucharist, St Bart's
9.30am Morning Worship/Meditation, St James'
11.15am Morning Worship, St Mary's
11.15am Holy Communion, Christ Church
OTHER DATES TO NOTE
Tuesday 13th February Revd Charlene's first service at St Cuthbert's, Ackworth.
Wednesday 14th February – 7.30pm St Barts DCC
FRIDAY MORNING – 16th February
10-12 St James, Community Card Group
10.30-12 St Bart's, Coffee and Chat
LENT COURSES START ON MONDAY 19TH FEBRUARY – YOU CAN SIGN UP IN YOUR CHURCH OR IN THE CROSSROADS SHOP
Put Saturday 24th Feb in your diary for a Bulgarian night in Wilshaw Sunday School at 7pm. £6 for a three-course meal plus music, fun and friendship.